Podcast: Play in new window | Download (15.2MB) | Embed
It's beginning to look a lot like Christmas!
As December fast approaches the community is looking forward to the 8th annual Christmas in Downtown sponsored by the Vinton County Chamber of Commerce. This event is designed to kick of the Christmas season and to give local families a fun and inexpensive way to enjoy the holidays. The day features free wagon rides, a Festival of Trees, craft sale, door prizes, activities for the kids, a parade, a dance and much more. So listen now as Bruce and Brandi chat about the attractions – old and new – at this year's Christmas in Downtown!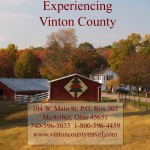 Does your business, group or organization need a podcast? If so, call dbkmediaservices.com at 740-569-3254, or email us at dbkmediaservices@gmail.com. We'll be glad to talk with you about your ideas and how your goals can be met through the use of today's progressive media.