Podcast: Play in new window | Download (14.2MB) | Embed
The Hocking Hills region is rich in history and lore, providing local authors Pat and Jannette Quackenbush with fascinating material for their books "Haunted Hocking" and "Haunted Hocking II: A Ghost Hunter's Guide to the Hocking Hills and Beyond." In this episode of "Experiencing Vinton County," Bruce Knox and Brandi Betts talk with Pat about inspiration for these books. Pat also retells some local ghost stories, setting a very realistic stage with details on local history and culture. Listen now to learn more about these local authors and their books!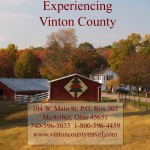 Does your business, group or organization need a podcast? If so, call dbkmediaservices.com at 740-569-3254, or email us at dbkmediaservices@gmail.com. We'll be glad to talk with you about your ideas and how your goals can be met through the use of today's progressive media.