Podcast: Play in new window | Download (Duration: 11:57 — 11.7MB) | Embed
It's time to celebrate the red, white and blue! There are two ways to do this in Vinton County. Join Bruce and Brandi now as they discuss the upcoming Independence Day Parade in Wilkesville and the VCHS Athletic Boosters' 4th of July Celebration.
Want to join in the fun? Here are a few details that we promised in the show:
Wilkesville Parade – Line up is at the old Wilkesville Elementary School site. Parade begins at 11 a.m. and is followed by food at the Wilkesville Community Building. Registration is not required.
VCHS Athletic Boosters 4th of July
Parade – Register by calling Michelle Royster at 596-5375 or by picking up an application from the Vinton County Courier Office.
Baby Contest – Pick up contest forms at R&C Quick Stop on W. Main St., McArthur or at Clark's Pump and Shop on S. Market St., McArthur. You can also call Aimee at 418-7206 for information.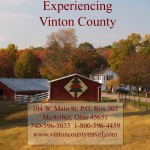 Note: You can subscribe to the show – FREE of charge – by simply putting your email in the subscribe box below. After you have have hit "Subscribe," you will receive a verification email on which you must click. After that, you will receive an email of the shows details each time there is a new episode of Experiencing Vinton County. You can unsubscribe at any time should you decide to do so. Try it!
Enter your email address:
Does your business, group or organization need a podcast? If so, call dbkmediaservices.co"15″ />