Podcast: Play in new window | Download (Duration: 20:01 — 19.1MB) | Embed
The gift giving season is just around the corner and a Shop Hop in Vinton County this weekend will give you ample opportunity to start finding just the right gifts for your loved ones! These unique shops located throughout Vinton County provide gift giving options that you won't find at the mall and their great customer service and wonderful selection will make holiday shopping a breeze. Listen now as Bruce Knox and Brandi Betts discuss this Saturday's Vinton County Shop Hop.
Here is a list of the shops discussed in this episode, along with their locations:
Fiddlestix – St. Rt. 93, one half mile south of the St. Rt. 56 intersection
Lois' Summer Kitchen – 24808 Creola-Hue Rd., Creola
Scenic Way Gifts and Art Glass Studio – 63775 St Rt. 56, Creola
Glen and Merline Maynard's Studio – 66200 Bethel Rd., New Plymouth
Pumpkin Ridge Quilts and Repair – 26940 Pumpkin Ridge Rd., New Plymouth
Vinton County Floral – 105 N. Market St., McArthur
Remember When Antiques and More – 118 W. Main St., McArthur
Zaleski Candle Works – 107 Commercial Square, Zaleski
Zaleski Creations – 121 Oak St., Zaleski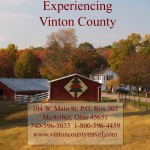 Note: You can subscribe to the show – FREE of charge – by simply putting your email in the subscribe box below. After you have have hit "Subscribe," you will receive a verification email on which you must click. After that, you will receive an email of the shows details each time there is a new episode of Experiencing Vinton County. You can unsubscribe at any time should you decide to do so. Try it!
Enter your email address:
Does your business, group or organization need a podcast? If so, call dbkmediaservices.com at 740-569-3254, or email us at dbkmediaservices@gmail.com. We'll be glad to talk with you about your ideas and how your goals can be met through the use of today's progressive media.