Podcast: Play in new window | Download (15.5MB) | Embed
It will be elephant ears, corn dogs and giant turkey legs for everyone this week! The Vinton County Wild Turkey Festival opens on Thursday, May 3 and will provide four days of music, games, food and family fun. In this episode of Experiencing Vinton County, Bruce and Brandi review the festival schedule and talk about a special turkey noodle dinner that will kick off the festival on Wednesday night. Listen now to hear more about this fun local event!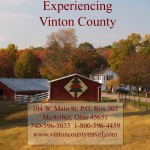 Note: You can subscribe to the show – FREE of charge – by simply putting your email in the subscribe box below. After you have have hit "Subscribe," you will receive a verification email on which you must click. After that, you will receive an email of the shows details each time there is a new episode of Experiencing Vinton County. You can unsubscribe at any time should you decide to do so. Try it!
Enter your email address:
Does your business, group or organization need a podcast? If so, call dbkmediaservices.com at 740-569-3254, or email us at dbkmediaservices@gmail.com. We'll be glad to talk with you about your ideas and how your goals can be met through the use of today's progressive media.