Podcast: Play in new window | Download (7.4MB) | Embed
Lake Hope State Park will brighten the landscape again this year with the Holiday Trail of Lights.
This annual tradition is a much beloved holiday event for many area families. Listen now to learn about the 75,000 lights used in a wooded display and about the environmentally responsible approach park officials use to operate the display. Bruce Knox and Vinton County Marketing Director Brandi Betts will also talk about some special fun planned at the Trail of Lights this December and give you the information you need to visit this attraction.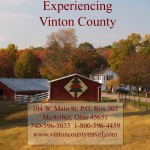 Enter your email address:
Does your business, group or organization need a podcast? If so, call dbkmediaservices.com at 740-569-3254, or email us at dbkmediaservices@gmail.com. We'll be glad to talk with you about your ideas and how your goals can be met through the use of today's progressive media.