Podcast: Play in new window | Download (10.3MB) | Embed
Ravenwood Castle is known far and wide as a peaceful retreat for visitors. But did you know they also host some very popular events throughout the year? In this episode of Experiencing Vinton County Bruce and Brandi talk with Ravenwood Castle proprietor Sue Maxwell about an upcoming Henry VIII Christmas celebration and a New Year's Eve bash featuring food, bubbly and murder! Listen now to learn how you can take part in the fun.
Additional information regarding Ravenwood Castle can be found on the Ravenwood Castle website:  http://www.ravenwoodcastle.com/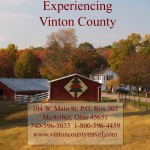 Enter your email address:
Does your business, group or organization need a podcast? If so, call dbkmediaservices.com at 740-569-3254, or email us at dbkmediaservices@gmail.com. We'll be glad to talk with you about your ideas and how your goals can be met through the use of today's progressive media.