Podcast: Play in new window | Download (Duration: 1:05:41 — 45.2MB) | Embed
SVC fans, in the return of SVC Sports Talk here in 2015 Shayne Combs and Jeremy Ward talk about basketball – boys and girls – from top to bottom. In boys, the focus is on Zane Trace, Unioto's perfection possibilities, and how upcoming roster changes could impact the league. For girls, the talk is FAIR/UNFAIR for SE girls, two unbeatens chasing a title, and a gap from top to bottom.
The show also plays OVER/UNDER in terms of 1,000 point scorers in the current league. Finally the Fast Break section is highlighted by the SVC Game of the Year to this point, and the final segment of the week is another installment of Liar, Liar Stripes on Fire.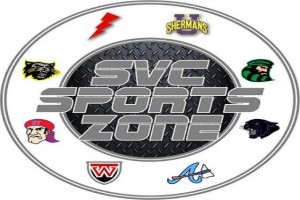 Does your business, group or organization need a podcast? If so, call dbkmediaservices.com at 740-569-3254, or email us at dbkmediaservices@gmail.com. We'll be glad to talk with you about your ideas and how your goals can be met through the use of today's progressive media.