Podcast: Play in new window | Download (Duration: 1:00:31 — 41.6MB) | Embed
With Teagan McFadden and Caleb Johnson winning for the 100th time this week, the show starts with wrestling and discusses milestones in all sports. What are the magical numbers in baseball, football, volleyball, and basketball, and what are some of the other records falling or in jeopardy of falling?
This week's Liar, Liar Stripes on Fire talks substitution, and feedback from Facebook and administrators from outside the league will take the discussions on the all-day event and crowd behavior to another level.
Great POY feedback as well this week and the Fast Break discusses the SVC stars for boys and girls who need the ball when the game is on the line as well as this year's SVC Cinderella.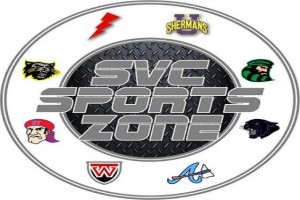 Does your business, group or organization need a podcast? If so, call dbkmediaservices.com at 740-569-3254, or email us at dbkmediaservices@gmail.com. We'll be glad to talk with you about your ideas and how your goals can be met through the use of today's progressive media.