Podcast: Play in new window | Download (Duration: 42:11 — 38.9MB) | Embed
Here's Episode 7 of Vinton County on the Air.
In this somewhat shorter episode, we provide you the regular Vinton County Calendar of Events. There are several opportunities for you to get out and about in the county, including a very busy day on Tuesday, November 5th where you can not only exercise your right to vote, but you can also find lots of good food during some special Election Day meals.
Although it didn't make it into the podcast because of some technical difficulties, we want to thank Carl Knox and NJ Kight for their time spent talking about the Vinton County Tennis Team's season. We'll try to get those issues rectified and see if we can't get that segment of the show back in the coming weeks.
Our one guest for the podcast is Bob Grillo. Bob is well known throughout the county for many community activities, but in this episode, we talk with Bob about the years that he has spent behind the microphone broadcasting the Vikings football, basketball and even a few baseball games.
Remember to take an opportunity to Contribute, Subscribe and Share to the show. Drop us an email at vintoncountyontheair@gmail.com, subscribe on iTunes, via email, or on Stitcher, and share out our posts on Facebook. We would appreciate your involvement!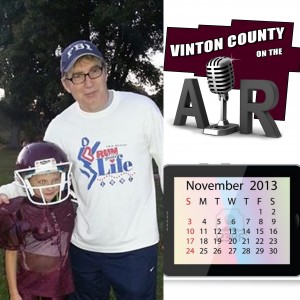 Does your business, group or organization need a podcast? If so, call dbkmediaservices.com at 740-569-3254, or email us at dbkmediaservices@gmail.com. We'll be glad to talk with you about your ideas and how your goals can be met through the use of today's progressive media.
Subscribe to the podcast via email below.  Enter your valid email address below, click on the submit button and look for a verification email in your email account.  Within that verification email there will be a link.  Click on that link, and then in the future, you will receive an email each time a new episode of Vinton County on the Air is published so you never miss one.