Podcast: Play in new window | Download (Duration: 53:01 — 48.8MB) | Embed
Episode 8 of Vinton County on the Air is now available!
In this episode, we discuss the many programs and activities that are scheduled in the upcoming weeks at the Herbert Wescoat Memorial Library with the Director of the library, Clint Walker.  We speak with Joy Dickerson, Director of the Vinton County United Way about a recycling program that they are instituting, and we review the plans for the Vinton County Chamber of Commerce's Christmas in Downtown with the Chairperson for the event, Trecia Kimes-Brown.  All of this, plus our weekly Calendar of Events in the on-line local audio program highlighting news & information about the people and events in Vinton County, Ohio.
Remember to take an opportunity to Contribute, Subscribe and Share to the show. Drop us an email at vintoncountyontheair@gmail.com, subscribe on iTunes, via email, or on Stitcher, and share out our posts on Facebook. We would appreciate your involvement!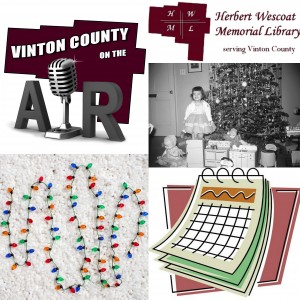 If you would like to see an index of all of our guests over our past episodes, click here
Does your business, group or organization need a podcast? If so, call dbkmediaservices.com at 740-569-3254, or email us at dbkmediaservices@gmail.com. We'll be glad to talk with you about your ideas and how your goals can be met through the use of today's progressive media.
Subscribe to the podcast via email below.  Enter your valid email address below, click on the submit button and look for a verification email in your email account.  Within that verification email there will be a link.  Click on that link, and then in the future, you will receive an email each time a new episode of Vinton County on the Air is published so you never miss one.