Podcast: Play in new window | Download (9.7MB) | Embed
Naturalists have been feeding hummingbirds at Lake Hope State Park, just north of Zaleski, OH since 1995. In 2002 a program was established which allows any visitor to try their hand at this amazing opportunity.
In this episode, Bruce Knox and Brandi Betts discuss the program at Ohio's Lake Hope State Park where people "hand-feed" the ruby-throated hummingbirds. In 2011, the annual free program runs from July 1 through August 31, every Wednesday through Sunday. 'Give a listen and consider participating in one of Vinton County's most popular programs.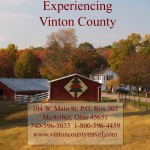 Does your business, group or organization need a podcast? If so, call dbkmediaservices.com at 740-569-3254, or email us at dbkmediaservices@gmail.com. We'll be glad to talk with you about your ideas and how your goals can be met through the use of today's progressive media.