Podcast: Play in new window | Download (Duration: 9:09 — 8.4MB) | Embed
The end of July seems to always bring hot, hazy and humid weather to Vinton County, and so too does it bring The Vinton County Jr. Fair! Each year many residents make their way to the Jr. Fairgrounds, just north of McArthur on St. Rt. 93 to take part in this rite of summer.
In this episode, Brandi Betts, the marketing director for Vinton County talks with Bruce Knox about some of the highlights of this year's fair.
Additional information can be found on the fair's website. It is www.vintoncountyjrfair.com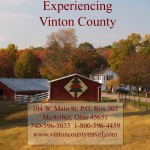 Does your business, group or organization need a podcast? If so, call dbkmediaservices.com at 740-569-3254, or email us at dbkmediaservices@gmail.com. We'll be glad to talk with you about your ideas and how your goals can be met through the use of today's progressive media.