Podcast: Play in new window | Download (14.3MB) | Embed
The summer might be coming to an end, but there are still many things to see and do here in Vinton County, particularly over the Labor Day weekend.
Join Vinton County Marketing Director Brandi Betts and host, Bruce Knox as they discuss some of the activities that anyone can take advantage of during the up-coming holiday weekend.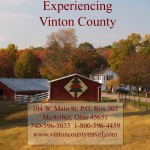 Does your business, group or organization need a podcast? If so, call dbkmediaservices.com at 740-569-3254, or email us at dbkmediaservices@gmail.com. We'll be glad to talk with you about your ideas and how your goals can be met through the use of today's progressive media.