Podcast: Play in new window | Download (11.6MB) | Embed
In this episode of Experiencing Vinton County, Bruce and Brandi talk with Dan Daly concerning the Friend's Farmers Market. For three years, Dan Daly has played a major part in organizing the Friend's of the Library (Herbert Wescoat Memorial Library) efforts to provide a place for local gardeners to sell their produce.
Dan tells us what types of produce you can find, the dates and times of the market, the steps one can take to sell produce, and even why it is important to buy locally grown produce.
Dan also touches on the fact that on certain days local home-made crafts are also available for sale.
Listen in to our first "interview" podcast! You'll be glad you did!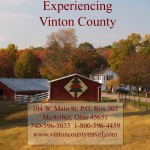 Does your business, group or organization need a podcast? If so, call dbkmediaservices.com at 740-569-3254, or email us at dbkmediaservices@gmail.com. We'll be glad to talk with you about your ideas and how your goals can be met through the use of today's progressive media.