Podcast: Play in new window | Download (Duration: 1:09:35 — 64.0MB) | Embed
Here is Episode 6 for Friday, October 25, 2013.
Our Vinton County Calendar of Events includes many different activities for the week of October 25th through November 1st, and we take a peek into some things that are taking place the following week as well.
Next, we present a "Podcast Primer" as we take some time to discuss what a podcast is, how a podcast works, and several of the benefits of podcasting.  Although podcasting doesn't directly related to Vinton County, perhaps it will make this method of disseminating information about Vinton County more useful.  Admittedly, it is a little "geeky,"  but give it a listen and see if it helps.  If you have additional questions, please send them to vintoncountyontheair@gmail.com.
As part of Vinton County on the Air, we thought it would be interesting to feature some Vinton County residents just to see what impact they have had on our community, and what impact the community has had on them.  As the number of these types of interviews grow, it will be interesting to see how each person interviewed feels about the county and its people, and what Vinton County has means to them.  In this particular example, I talked with Jim Beckner who was recently recognized by the Vinton County High School Alumni Association for his many years of public service to the county.
In this week's touch of sports, Carl Knox talks with the Director of Vinton County's Little Vikes Football program, Jason Newsome.  Jason talks about that fine line between competition and learning for the youngsters of the county.
Remember to take an opportunity to Contribute, Subscribe and Share to the show. Drop us an email at vintoncountyontheair@gmail.com, subscribe on iTunes, via email, or on Stitcher, and share out our posts on Facebook. We would appreciate your involvement!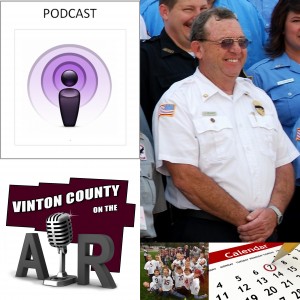 Does your business, group or organization need a podcast? If so, call dbkmediaservices.com at 740-569-3254, or email us at dbkmediaservices@gmail.com. We'll be glad to talk with you about your ideas and how your goals can be met through the use of today's progressive media.
Subscribe to the podcast via email below.  Enter your valid email address below, click on the submit button and look for a verification email in your email account.  Within that verification email there will be a link.  Click on that link, and then in the future, you will receive an email each time a new episode of Vinton County on the Air is published so you never miss one.