Podcast: Play in new window | Download (14.8MB) | Embed
In this episode of Experiencing Vinton County Bruce and Brandi talk to Craig Fetherolf about the upcoming Tom's Run. Craig is the President of the Tom's Run Foundation which organizes this poker run every September.
Craig tells us about where the poker run goes and how it works. He also explains why the event was named for the late Tom Ferguson whose generous heart inspired the creation of this event to benefit consumers of Vinton Industries and the Vinton County Board of DD.
Listen now to hear the compelling story behind Tom's Run and to learn about plans for this year.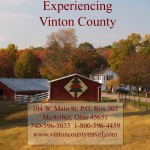 Does your business, group or organization need a podcast? If so, call dbkmediaservices.com at 740-569-3254, or email us at dbkmediaservices@gmail.com. We'll be glad to talk with you about your ideas and how your goals can be met through the use of today's progressive media.