Podcast: Play in new window | Download (Duration: 1:12:28 — 66.6MB) | Embed
In Episode 4 of Vinton County on the Air, we talk activities and programs at the Herbert Wescoat Memorial Library,  the Vinton County High School Alumni Association's activities, and we have a conversation with the Vinton County Viking's Head Football Coach Justy Burleson.
The Herbert Wescoat Memorial Library always has lots of activities going on, and the remainder of October is no exception. Assistant Director Diana Johnston talks with Bruce about the library's activities throughout the remainder of October. Diana also describes two services that the library offers to patrons which make it easy to read magazines on your own electronic reading devices, and to borrow books, audio books, music and even some movies from the library even if you can't make it into the library.
Randy Yates of the Vinton County High School Alumni Association describes in detail the recent history of the Vinton County Alumni Celebrations, and the activities that will occur at the up-coming Fifth Annual Celebration on Saturday, October 19, 2013. Randy also brings us up to date on two additional projects which the Association is taking on – those being the purchase and implementation of an electronic marquee at the Vinton County High School, and the establishment of Vinton County High School Hall of Fame.
Carl Knox's conversation with Viking's Head Football Coach Justy Burleson covers the Vikes recent victory over the Alexander Spartans and what the Vikings expect to encounter as they take on the Meigs Marauders tonight, October 11, as they travel down to the Marauder's new facility. Carl and Justy also have an interesting conversation about Burleson's thoughts on the formative years of for an athlete – and those thoughts may not be exactly as you might expect!
All this, along with the Vinton County on the Air Calendar of Events, on Episode 4 of Vinton County on the air!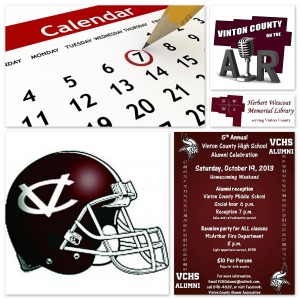 Does your business, group or organization need a podcast? If so, call dbkmediaservices.com at 740-569-3254, or email us at dbkmediaservices@gmail.com. We'll be glad to talk with you about your ideas and how your goals can be met through the use of today's progressive media.
Subscribe to the podcast via email below.  Enter your valid email address below, click on the submit button and look for a verification email in your email account.  Within that verification email there will be a link.  Click on that link, and then in the future, you will receive an email each time a new episode of Vinton County on the Air is published so you never miss one.